René Smets' Pinhole Cameras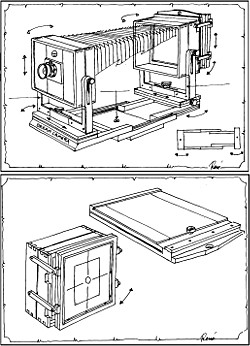 René Smets is an interior designer with a training in cabinetmaking and furniture design.
He discovered the old photographic processes in 1980, when he visited the Nicéphore Niépce museum in Chalons-sur-Saône, where the works of Léonard Misonne were on display.

He soon became a well-respected expert in most of these techniques — oil prints and transfers, dichromate gum, carbon prints, Sury process, cyanotypes, platinum prints, Van Dycke brown, photogravure, salted paper, and many other — building himself all the equipment required for these processes, such as: an etching press, several types of mercury fuming boxes as well as other Daguerreotype equipment.

He also built several cameras: 4"x5" view cameras, a 360 ° panoptic pinhole camera, etc...
When clicking on the "CAM.." links (orange bar above), you will be able to admire a series of pinhole cameras he built, as well as pictures made with them. In the "DIY" part of the technical secton, you will find a series of texts documenting various of his construction projects, amongst which one explaining how to make perfect pinholes for your cameras.


There are not many camera builders around, and therefore René will particularly welcome other enthusiasts building their devices.. If you wish to contact him, send him a note via the contact form stating "CAMERA" in the "subject" field of your message.